It was a hot, sunny, 90 degree Friday in Southern California. With so many options of fun things to do in the LA area, the team at AdMedia went with the obvious choice — we went with the traditional LA activity of ice skating!
Ice skating isn't the most synonymous activity associated with Southern California, but there are still a handful of ice rinks in the area. And it just so happens there's one right next to our office. It was a simple one block walk to our local ice skating rink where the AdMedia team got together and hit the ice.
 For most of that Friday morning, the AdMedia team skated, glided, raced, slipped and fell around the Pickwick ice rink in Burbank. Unfortunately, we did not find the next coming of Katarina Witt or Brian Boitano. Nor did we find the next Wayne Gretzky or Sidney Crosby. What we did find was a great way to hang out and blow off some steam at the end of a busy week. A lot of team members got to skate for the first time and some actually knew what they were doing. And for a few of AdMedia team members, it was a humbling experience falling on the ice in front of colleagues.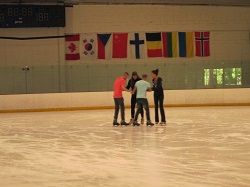 At the end of our special fun day, we had gourmet pizzas waiting for us in the conference room. Tomato & Basil, Pesto, and Chicken Barbecue were just a few of the flavors that the team got to enjoy. It was a perfect day to take a couple of hours out for ice skating and pizza. You can say it was the perfect ending to a fun team building day and a hard-working week at AdMedia.